Details

Category: Hypermarkets Apparel
Last Updated on Friday, 21 September 2012 08:40
Written by Grocery News
                      On Friday September 21, 2012 industry watchers will be paying close attention to a supermarket in Mansfield, Ohio.  The newly remodeled Kroger Marketplace in Mansfield will now feature a new section dedicated to apparel/clothing (undergarments, shoes, jewelry, etc).  Unlike Loblaw Companies in Canada which only sells its own line of clothing (Joe Fresh Style), Kroger will be selling name brands people are already familiar with (Levis, Hanes, and others).  Hypermarkets are growing in popularity in China (Carrefour), South America (Groupo Exito) and even Canada (Loblaw Superstore locations) and since the successfull entrance of both Target and Walmart into the grocery business, American shoppers have embranced the diversified concept.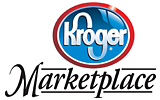 Since the completion of the mega merger between Fred Meyer and Kroger on May 27, 1999 the company has operated a grocery subsidiary that also doubles as a clothing retailer (Fred Meyer, present on the West Coast);  The Kroger supermarkets that do sell apparel will be modeled after Fred Meyer.  This is the first time in its 129 year history that a Kroger branded location will also sell apparel.
Kroger Marketplace (lauched in 2004 in Columbus, Ohio) locations are slightly bigger than Kroger's traditional supermarkets.  They already sell furniture however according to an analyst at BMO Capital Markets, sales of furniture could be discontinued.  The formart for Kroger Marketplace was originally based on Fry's Marketplace in Arizona (also run by Kroger since its merger with Fry's parent Fred Meyer in 1998/1999 - announced/completed).  According to UBS, today supermarkets account for only 51% of grocery sales down from 66% in 2000.
The Kroger Co. stock price (NYSE:KR) finished Thursday at 23.90 up +8.0% last 1 month, +3.78% last 3 mos, -0.83% last 6 mos, +6.74% last 12 mos.  It has a market capitalization of US$ 12.61 billion.
Powered by Bullraider.com