Details

Category: Health
Last Updated on Monday, 17 June 2013 11:28
Written by Seraphim
                Azo dyes are the colouring agents of choice - they account for three-fifths of all food dyes manufactured and why not ?  They're significantly brighter than their artificial alternative, the anthraquinones and they come in a variety of colors, the yellows, the oranges, the reds and any combination of the three.  In some cases they're even fed to chickens to make egg yolks more yellow.  If their use is so widespread then they must be safe to consume, right ?  Not necessarily.  Azo dyes are increasingly unpopular abroad with the ingredient having been banned in major European countries including Germany, the United Kingdom, Norway and Austria with bans in Germany and Austria lifted only after being re-evaluated for the third time by the European Union Scientific Committee For Food.  Kraft Dinner's original entrée remains colored by the dye but only in North America. 
Read more: Tartrazine and Food Intolerance. UK ban cites ADHD, Allergies. FDA says azo dye Red-3...
Details

Category: Health
Last Updated on Monday, 11 March 2013 00:57
Written by Seraphim
During the first week of March 2013, I paid a visit to one of Loblaws' Atlantic Superstore locations looking for frozen cranberries. 
My interest in cranberries stems from the fact that, eating cranberries is one of the easiest and most effective ways of detoxifying the body; cranberries prevent bacterial growth, they help the body detoxify naturally by cleansing the lymphatic system (responsible for neutralizing waste products and detoxifying cells).
Details

Category: Health
Last Updated on Monday, 05 May 2014 01:20
Written by Seraphim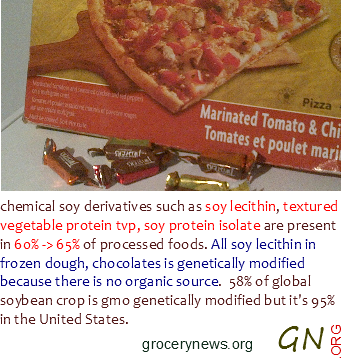 If you're an avid reader of ingredient labels then you've probably already come across the soybean oil derivative soy lecithin.  Soy lecithin is a derivative of soy meaning that it's chemically made through the addition of complex compounds such as hexane to by-products of the soy oil process ;  other examples are mono-diglycerides and soya. 
Read more: Soy Lecithin Say It Ain't So-y ! Roundup Ready GMO, Organic Isoflavones, Side Effects...
Details

Category: Health
Last Updated on Monday, 17 December 2012 04:28
Written by Grocery News
         On December 13th Loblaw Companies (L) released a new line of gluten-free baked goods, branded under the popular President's Choice label.  Gluten-free products were previously sold at Loblaws the difference is, the majority of them were branded under mainstream labels such as Mi-Del.  More generic items made by Loblaw Companies will translate into better prices for consumers, something that could ignite an already hot market; in 2012 $4.2 billion in sales were made in the gluten-free category of the US market and that number could go up by 57% by 2017 to $6.6 billion.
Read more: Loblaws President's Choice First Private Label Gluten Free Products,Food Allergies,Celiac...
Details

Category: Health
Last Updated on Saturday, 27 October 2012 09:32
Written by Seraphim
            Nutritarians or people whose diet consists mainly of foods rich in nutrients, are at a huge advantage vs others when it comes to their immune system.  When foods are refined a lot of their nutrient content is removed (especially true in the case of refined flour), reducing their ability to help the body withstand attacks from free radicals and other sources of dna damage (phytochemical nutrients resist free radicals which in turn protects against damage to the dna nucleus and dna methylation).
Phytochemicals (naturally occuring chemical compounds found in plants) are so effective that in the distant past, they were the mainstream drugs used to treat all kinds of diseases.  Paxitacel is a widely used and effective immune-disease fighting drug derived from tree bark phytochemicals.
Read more: Why Nutritarians Score Well in the battle against Diabetes, Autoimmune Diseases (nutrition)
Subcategories
Bacterial Food Contamination

Food contamination at supermarkets, important information you need to know.  Affected grocery stores, chains, bacterial outbreaks, contaminated food at supermarkets grocery store chains.  E-Coli bacteria H7. European supermarkets,e-coli bacteria, e-coli contaminated beef, e-coli contamination, e-coli contaminated food, unsafe grocery store products, dangers of bacterial contamination, dangers of e-coli, e-coli h7, american supermarkets, european supermarkets, canadian supermarkets,