Details

Category: Health
Last Updated on Friday, 16 September 2016 07:48
Written by Seraphim
Breaking News Just In - America's largest agricultural company Monsanto MON has agreed to takeover by Germany's Bayer BAYRY for $127 a share creating the world's largest crop-science company.
Bayer appears desperate to get a deal done - though successful it took Bayer five tries/offers since May (4 months) to get the Monsanto board to accept.
Together the agri industrial companies will control more than half of cotton cropland in the United States by acreage.  The use of seeds and pesticides can only increase given that Bayer is a German-based company with more leverage in Europe where Monsanto's controversial products have encountered more opposition than in America.
Read more: Dangerous Deals Bayer Takeover Monsanto bayr GMO tainted food supply
Details

Category: Health
Last Updated on Saturday, 14 June 2014 14:47
Written by Seraphim
A few interesting points to make concerning wheat, the main culprit responsible for gluten sensitivity.
This is in regards to 'modern wheat' -- few people realize that the wheat in our food today is structurally different than the wheat our ancestors consumed prior to the 1960's.  Most of this change happened between 1960 and 1980, a period of unregulated, rapid growth in genetic research that spawned asbestosis and bpa.  Thanks to new regulation governing the development and release of genetically modified crops (gmo), more recent modifications to wheat haven't been introduced, though Monsanto is lobbying hard for it.
i - the glia alpha 9 genetic sequence in the code for wheat aggravates celiac disease.  Sixty years ago this particular sequence was extremely rare if not entirely absent, however today virtually every modern form of wheat has it.  Incidentally since then, the number of people with celiac disease has risen by a factor of ten. 
ii - Changes made to the genetic structure of wheat during the 1970's by geneticists enhanced the opiate effects of gliaden.  The body breaks gliadin down into byproducts that, when bound to the brain's opiate receptors, provoke addictive eating behavior.  The result ?  on average, wheat eaters consume 500 more calories per day. 
iii - alpha amylase inhibitors -
Read more: Why Modern Wheat is Genetically Different, Gluten Free Not a Fad: Side Effects
Details

Category: Health
Last Updated on Sunday, 18 May 2014 09:58
Written by Seraphim
most contaminated foods     organic      how contamination happens 
                Pesticide use is on the rise in North America and that's making contaminated food hard to avoid.  Though the most toxic pesticides have for the most part been phased out, it's important to remember that for many years those pesticides were tolerated;  As time goes by more of the long term effects become apparent.. Ultimately it is highly likely that many of the pesticides in use today will also be found to be too toxic and banned.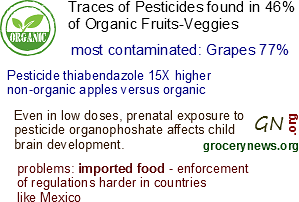 Rules governing pestide use (how it's applied/ soil testing/ food testing) in countries such as Mexico and Pakistan may not be as stringint as in developed countries like the United States and Canada. 
Read more: Pesticide Residue On Food Becoming Problematic organic contamination
Details

Category: Health
Last Updated on Monday, 19 May 2014 08:18
Written by Seraphim
Science behind Genetically Modified Organisms GMO contamination
     Just two weeks ago Vermont became the first US state to require GMO products be labeled in a way that distinguishes them from non GMO (by food manufacturers).  Many in the industry don't like the move as it will ultimately have a negative effect on sales of those products due to a negative perception, regardless of the scientific evidence (though the long term effects of eating GMO remain unknown).  If the Right to Know bill gets passed in Oregon, GMO labeled foods will begin showing up on store shelves in January of 2016.  Worldwide, more than 60 countries require GMO foods be labeled, unfortunately the United States is not one of them.  Currently, the only way to avoid GMO's altogether is by buying foods certified USDA Organic.
Oregon:  On May 20, 2014 a key event will take place in Jackson County, Oregon - citizens will be given the opportunity to completely ban corporations from growing Genetically Modified Organisms and selling GMO Foods in the region.
Elsewhere in Oregon, the Right to Know campaign is heating up.  The group is nearing the 87,213 signatures required by July 3 for its proposed bill to be considered by the state legislature.  The bill will give representatives the opportunity to open up disclosure on genetically modified foods in Oregon by demanding that companies label GMO products differently.  In 2002 a similar measure was voted on but the result was to not require labeling.
Read more: Genetically Modified GMO Foods come under pressure in Oregon and Vermont
Details

Category: Health
Last Updated on Sunday, 18 May 2014 09:59
Written by Grocery News
When grocery shopping, a lot of the foods we have to choose from contain preservatives, artificial flavors & colors, modified wheat & corn
Read more: Eating Healthy ? Avoid Foods Containing These Common Ingredients (preservatives, food allergies,...
Subcategories
Bacterial Food Contamination

Food contamination at supermarkets, important information you need to know.  Affected grocery stores, chains, bacterial outbreaks, contaminated food at supermarkets grocery store chains.  E-Coli bacteria H7. European supermarkets,e-coli bacteria, e-coli contaminated beef, e-coli contamination, e-coli contaminated food, unsafe grocery store products, dangers of bacterial contamination, dangers of e-coli, e-coli h7, american supermarkets, european supermarkets, canadian supermarkets,