Globalization of Walmart, Food Sales By Region locations
Details

Category: Company Profiles
Written by Seraphim
 walmart countries      number of stores       canada
                     Arkansas-based Wal-Mart is the largest retailer in the world that also deals in grocery-store items (in most countries it is a hypermarket however, in the countries of South Africa and the United Kingdom (asda) all of its locations are supermarkets).  It globalized well with a few exceptions (exited Germany in 1998 followed by South Korea eight years later in May 2006).  Fiscal 2009: Wal-Mart international had sales of over $100B representing 1/4 of total net sales.  By fiscal 2013 international sales reached $135.2 billion ($466.1 when Walmart USA is included), a far cry from the $40 billion in sales the company had in 1991.  In 2006, Germany-based Metro AG acquired all Walmart hypermarkets in Germany and the rebranded them Real.  visit Top Grocery Retailers for the latest sales/earnings data for nine of the world's biggest food retailers.
Full Report on Wal-Mart here

British grocer Asda was acquired by Wal-Mart in 1999 for $11 billion.  Asda has a 17.4% share in supermarkets (Great Britain, March 2014 est);  Supermarkets account for 77% of national food sales.  At year-end 2013 Asda operated 568 stores up from 525 in 2012, 340 in 2008.  According to Kantar Worldpanel every 12 weeks sales at British grocers total approximately £24.0 billion (~$40b; total till roll £32.2b).    A decade following its takeover by Walmart, on May 2010 Asda acquired Netto discount foods for $1.2 billion (£778 million);  The Netto acquisition (193 stores) came at a time when Asda was struggling (reported its first quarterly sales drop in 4 years) and increased its market share in Britain from 16.8% --> 17.5%. 

In Canada Wal-Mart is currently going through a growth phase - prior to 2013 none of its stores sold grocery items which contrasted with American operations where food comprised 55% of revenue.  Then, in 2013 the retailer began converting locations into supercenters.   Though only ~50 new stores were opened in 2013 company revenue is expected to significantly increase due to the conversion of traditional locations into supercenters with an expanded product selection.  Also helping Wal-Mart's image in Canada are reports of its prices being lower than Target's.  Target suffered some consumer backlash from Canadians who complained that its prices were noticeably higher than in the states.  As of 2014 the Canadian retail food market is expected to grow at a compound rate of 1.2% through 2017 (CAGR).  Between 2007 and 2012 Canada's food sales in the country were up 19.5%.
South Africa:  Acquired Massmart in September 2010 for $4.2B.  Massmart is South Africa's #2 grocer behind Metacash;  Massmart is the country's #3 food distributor (90% of foods sold by way of group warehouse club discounting; Makro, Dion, Game, Shield, Delarex, Jumbo, Builders Warehouse, Servistar, CBW, Feds DIY).
Entered Mexico in 1997 through Grupo Cifra.  In 2010, retail food sales in Mexico amounted to $74.5b which is within range of Canada ($82b) with a rate of growth of +8.7% (versus just over 2% for Canada).  In Canada 55% of locations are supercentres.  notes: 93% of Canadians browse flyers, 34% use coupons. (January 2013 usda)
China - Walmart doesn't release data regularly on China; the last time it did was in 2011 when annual sales were $7.50 billion.  According to China-based research, in 2012 Walmart's market share was 11.2% trailing only Sun Art Retail Group Ltd which holds 12.8% (banners are RT-Mart, Auchan).  Walmart opened 30 new stores in 2012 and closed 5.  In 2011 +43 new locations, 2010 +47, 2009 +53.  operating margins in the country are low at 2 to 3%.
Walmart sells over $140 billion worth of food items in the US annually which is more than Costco or Kroger.  That's roughly half of US sales ($275 billion in calendar year 2012 : fiscal 2013).
Wal-Mart Retail-Food Market Share By Country and Year:
     Country
  Year 
  Market Size($B) 
% Share
      # stores
 source 
 year entered  
    Argentina
  2010  
         35.0
   2.7%
            38
    src
      1997
    Brazil
  2007 
         69.9
  11.0%
           236
    src
      2004
    Canada
  2013
         89.0
   6.5%
           381
src
      1994
    Canada
  2012
         87.1
   6.0%
           379
    src
      1994
    Canada
  2011
         85.5
   5.97%
          
    src
      1994
    Canada
  2009
         78.6959
   4.2%
           304
    src
    China
  2012
      1300.0
  11.2%
     397 +30

/2012 

    src
      1996
    Mexico
  2011
         74.9
 

   1443  +227

    src
      1997
    Mexico
  2010
         
 

   1250  +300

    src
    South Africa
  2010
         31.73
 ~15.0%
     288

/2011

    src
      2010
 United Kingdom 
  2010
        241.30
  14.3%
     500 Asda
    src
      1999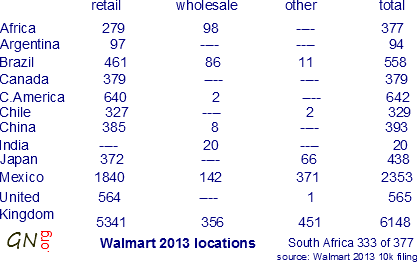 Powered by Bullraider.com