Details

Category: Company Profiles
Last Updated on Friday, 17 January 2014 07:48
          key sections     i)  2013 locations  ii) partnerships 
iii) interesting facts  iv) Dia spinoff
           Groupe Carrefour  was founded in 1959 when supermarket owner Marcel Fournier decided to team up with entrepreneur Louis Defforey to start a chain of large discount supermarkets.  At the time, the modern concept of the supermarket, though introduced to France five years earlier, hadn't expanded much : a few dozen stores in France accounted for less than 20% of the market.  Fournier and Defforey knew that if they tweaked the existing concept of the supermarket (location/scale of size which would give them more room to lower prices) the market would embrace it.  The first large grocery shop was opened in Annecy, France during the summer of 1960.  By 1963 Carrefour owned two stores in Annecy one of which was a hypermarket (sold gas in addition to other non food items);  The larger of the two was able to get customers to buy more of each product by selling at wholesale prices.  In 1966 Carrefour expanded operations to new cities in France where it opened larger hypermarkets, the biggest of which covered 8X more area than the first one in Annecy; one located near Paris, the other in the southern part of the country.  Over the next decade the company became a global brand, initially expanding to Belgium, Spain and Brazil.
The supermarket concept gained wider recognition which led to new competitors but Carrefour carried on, unfazed by the challenges it faced (remained way ahead of the competition when it came to market share).
1985 was bittersweet; That year, operations expanded to ten countries but it also marked the death of founder Marcel Fournier. By now the company was one of Europe's leading food retailers (just over half of all locations were outside France). In the late 1980's - early 1990's the company expanded to the USA opening a couple large hypermarkets in Pennsylvania (which were eventually sold, the same year the company opened new stores in Mexico).
In an effort to expand into new areas, Carrefour made deals with other large co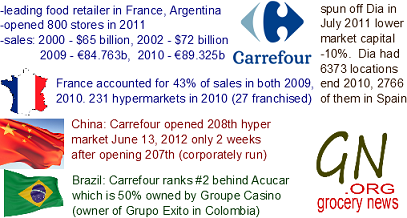 mpanies including Groupe Casino and Costco.
In 2000 Carrefour acquired Promodes SA and it was that merger that allowed it to become the second largest grocery chain operator in the world (behind walmart).  In 2005 Carrefour pulled out of North America altogether when it sold its 29 supermarkets in Mexico to Chedraui (Mexican stores sold €519 million worth of goods in 2004, also in 2005 Carrefour exited Japan selling ten supermarkets to Aeon for ¥10 billion).
2011 also saw close to 800 new stores open and 1500 new products launched through Carrefour Planet.  2011 was the year Carrefour launched new operations in India; net sales in India finished the year at €11 million.
Carrefour spins off Dia which instantly becomes the world's 3rd largest hard discount grocer
In July 2011 Carrefour spun off its hard discount unit, Dia (carrefour shareholders received one share of Dia);  Dia is the third largest discount food chain in the world.  The last annual report issued by Carrefour when it still had Dia, showed 6373 locations of which 2766 were in Spain (1005 franchised), 4195 in Europe (1518 franchised).
2011 annual report changes:  Carrefour expands into India and exits Portugal
 
 2013 locations, Sales Area By Region
As of January 2013 Carrefour Group's locations consolidated stores number 3127 (2166 in Europe, 675 Latin America, 286 Asia).  That's down from over 3500 the year before; this decline is due to the company selling its business units in Colombia, Greece, Malaysia, and Singapore.  In January 2013 it sold 60% of its Indonesian operations to CT Group for $673 million which means that it will continue to operate in Indonesia but as a franchisee instead of the franchisor.  The 3127 locations doesn't include over 6000 others that it holds only a minor interest in.  Carrefour 2012 financial results at Carrefour Financials.
2q2013 locations : Latin America - 273 hypermarkets (+1), 168 super (+0), 273 convenience (+38), cash & carry (none).  France - 232 hm (+0), 953 super (-11), convenience 3418 (+13), cash & carry 140 (+0).  Asia - 352 hm (+2), 17 super (11), convenience (none), cash & carry 4 (+0).  rest of Europe - 459 hm (+2), 2158 super (-18), 1430 convenience (+60), cash & carry 19 (+5).  Maghreb, Middle East, Dominican Republic - 58 hm (+3), 139 super (+9), convenience (none), cash & carry 9 (+3).
1Q2013 (March 2013) Corporate + Franchised stores & change since end of 2012: Latin America - 273 hm (+1), 168 super (+0), 256 convenience (+21), cash & carry (none).  France - 232 hm (+0), 954 super (-10), convenience 3406 (+1), cash & carry 140 (+0).  Asia - 352 hm (+2), 15 super (-1), convenience (none), cash & carry 4 (+0).  rest of Europe - 461 hm (+4), 2166 super (-10), 1391 convenience (+21), cash & carry 20 (+6).  Maghreb, Middle East, Dominican Republic - 55 hm (+0), 134 super (+4), convenience (none), cash & carry 9 (+3).
March 2013 sales area by region (m2) - France 5,060 (down, 31.7%), Europe 5,621 (down, 35.2%), Latin America 2054 (up, 12.9%), Asia 2604 (up, 16.3%), other 631 (up, 4.0%).
Interesting Facts
As a group, Carrefour gave out only 171 plastic bags per square meter of floor space, down -54.6% on the year, and only about half as much as it used in 2007 (377/m2).
Store energy consumption per unit reached a low of 587 in 2010.  Number of organic product items improved to 1968 up from 1236/1586 in 2007/2008.
Carrefour ranks #2 in Brazil in terms of sales, #1 in France, No1 in Argentina (71 locations end 2010).
Carrefour opened its 208th hypermarket in China on June 13, 2012, exactly 2 weeks after the 207th was opened (there were 184 locations in China as of end of 2010).

Partnerships
      Groupe Casino SA (also based in France; FR:CO) is one of the largest supermarket operators in South America (in Colombia it owns Grupo Exito), owns 50% of Companhia Brasileira de Distribuicao Grupo Pao de Acucar (CBD), a company that has approached Carrefour with offers to merge (led by Abilio Diniz who controls CBD).  One of the stumbling blocks to the merger is opposition from Groupe Gasino which calls the merger illegal however, support from investment institution Gama means the merger may still be alive.  On July 13, 2011 CBD said it is temporarily suspending the merger proposal though the
suspension would become permanent if Groupe casino gains majority control of CBD, which it will be able to do as early as this year (2012).  In Brazil Carrefour ranks No2 in the supermarket business behind Pao de Acucar (half owned by Groupe Casino which also controls Grupo Exito -- Colombia/Venezuela).
In Greece and Bulgaria Carrefour locations are franchised through the Marinnopolis Group.  On March 28, 2013 the ninth location was opened in Sofia, Bulgaria.
In January 2013 Carrefour Group sells 60% interest in Carrefour Indonesia to CT Corp for $673 million making it the franchisee.
Convenience Stores (Montagne, Proxi, Marcheplus, Shopi, 8AHuit, CityCafe, Express)
    Even though convenience stores account for just over half of all of Carrefour's total group locations, they contribute less than 15% of group sales (90% of all stores are franchised, not corporately owned).  About 3200 of the 5,059 locations are in France (Carrefour City, Carrefour Contact, Carrefour Montagne).  Convenience stores in Greece (Marinopoulos), Poland (5 Minut), and Italy (Di per Di) are gradually being added to the Carrefour Express banner (remember that since June 2012 Carrefour is relinquishing complete control of its business in Greece to Marinopoulos due to the economic situation there).
Number of Locations in 2012 and the Effect of Dia Spinoff
The number of stores in France running any of a number of Carrefour's banners dropped from 1551 to 763 in 2011 due to the divestment of all hard-discount and other format stores.  Total stores in Europe are now (released June 2012, Fiscal 2011 ended December 2011) down to 1856 from 4590; excluding stores lost from the spinoff of Dia, hypermarkets (+8-->652) and supermarkets (+6-->1612) were both up in Europe.  The loss of Dia especially impacted number of locations in Spain where it now stands at 283 from 2038 end of fiscal 2010 (in Spain, Carefour added hypermarkerts +1 --> 166 and supermarkets +6 --> 110).
No Dia means Carrefour is officially out of a couple markets including Portugal (had over 353 Dia stores there before;  no hypermarkets since 2006) while in other countries like Poland and Romania, the spinoff had zero effect on store count because there were no Dia stores there (Poland hypermarkets +2 --> 84, supermarkets -18-->176;  Romania hypermarkets +2-->25, supermarkets +13-->45).
Asia total store count down 600-->380 with hypermarkets up +25-->361 (almost all of that increase from China +21-->203) and supermarkets down -2-->17 (all of Carrefour's stores in China are hypermarkets).

Latin America:  Colombia was a bright spot; locations up +22-->95 driven by 'other formats' which were lauched during 2011 (0-->20). update: November 2012 Carrefour sold its entire Colombian business unit to Cencosud for $2.6 billion (20 times EV/ebitda).  Left country because 1) Cencosud paid a premium 2) Focus more on core market of Brazil.
In Brazil total locations down 505-->235; excluding Dia total locations down -11-->235 though hypermarkets were up +2-->186.
In Argentina: other formats +38-->70; hypermarkets +3-->74; supermarkets +2-->109.
Total group locations excluding Dia declined by -7 to 3582 but total sales area remains strong because the larger hypermarket stores increased in number, 1308 --> 1348; Dia locations numbered 4303 last year and that contributed nearly all of the decline in total location number from 7892 --> 3582.
Fiscal 2011 Annual Report Findings
As of December 2011, France is home to 69.2% of Carrefour's total sales area in Europe and 24.7% of its total global sales area (3093/12,538 1000m2);  China's total HYPERMARKET sales area is up to 1,574,000m2 which is only 20.3% less than France's (China doesn't have any other store formats but France has 558 supermarkets (-17 on the year) which gives it another 1,119,000m2
Interesting Facts:
At the end of 2011 France was home to 21.3% of all Carrefour's locations (763/3582) but was the source of 43.29% of total net sales (€35.179b/€81.271b); the year before (2010) France was home to and 43.36% of total net sales (34.907b/80.511b)
Net sales 2010--2011 : Europe: -0.013% : €59.670b-->58.878b  Asia: +5.62% : 6.923b-->7.312b  Latin America: +8.36% : 13.919-->15.082b
Operating Income 2010-->2011: Europe: 73.3% --> 62.8%; Asia: 10.6% --> 11.8%; Latin America: 16.1% --> 25.4%.
Affecting the company's bottom line is this:  In 2011 even though net sales were up only +€760M, general and administrative expenses were up +€475M while income income tax expense up +€392M to 1.002b euro.
The company profited only 404M euro down from 568m euro (and a far cry from what other large companies like walmart and costco are earning); The group share of net income was only €72m down from€ 1208m.  €1.75B of the €1.942b in goodwill impairment is attributable to Italy (with nearly all of the rest from Greece).  Available for sale financial assets are now at €763M down from €1525M euro Dec 31, 2010 while cash and cash equivalents are up +17.67%:  €3271M --> €3849M.
Dia shares were initially distributed on July 5, 2011.  Under an equity swap Carrefour commited to buying back 17.7M shares for 446M euro.  It holds those shares indirectly meaning the payment is showing up as a liability even though it still didn't acquire them.
Total Assets: -10.70% : 53.650b --> 47.931b The change in total assets is almost entirely due to non-current assets (current assets steady at 19.254b euro); 1556 of the 4764b loss in non-current asset value is attributable to tangible fixed assets, another 3.089b was lost in goodwill.  Granted consumer credit went up 2112b --> 2236b

Carrefour Operations In Greece
June 2012: Carrefour is relinquishing complete control of its business in Greece to Marinopoulos due to the economic situation there.  620 of the 897 locations affected are convenience stores (carrefour express), 364 of which are franchisee owned (that's 59% ! compared to 95% of convenience stores outside of Greece being franchised; leading to a more significant impact on Carrefour's revenue and profit).  All 31 hypermarkets are corporately owned while its 219/246 for supermarkets.  Marinopoulos also runs operations in Bulgaria.  391 of the 897 stores in Greece are franchisee owned;  Carrefour had 31 hypermarkets in Greece.  Operations in Italy are about the same size as in Greece.  Only 58 of 450 locations in Italy are hypermarkets; in Greece only 41 of 463 locations are hypermarkets.
South America Hypermarket Cash & Carry
     Carrefour Atacadão (first introduced in Brazil) is one of the group's fastest growing business units.  2010 saw the addition of 11 new stores (70 in total) in Brazil where sales at Atacadao increased +26%.  In 2010 the Atacadao chain of stores were introduced to Colombia followed by Argentina in 2011.
Cash & Carry Promocash
    The chain of cash and carry stores known as Promocash, are primarily run by franchisees (meaning that only a fraction of sales/profit gets attributed to the parent company).  More recent growth in locations has been driven by acquisitions.
Powered by Bullraider.com