Supermarket Companies Profiles
Details

Category: Company Profiles
Last Updated on Monday, 13 January 2014 05:20
Published on Thursday, 27 June 2013 15:10
Written by Grocery News
         Quebec's largest gas bar company has, over the last decade become an international player thanks to key acquisitions in the West (United States, Europe) and its internationally-focused leaders who successfully secured franchise licensing agreements abroad (banners are now recognizable in fast growing markets China, Indonesia, Vietnam).  Of its more than 13,000 stores 2853 are in Europe (corporate run), 2900 in Japan (franchised), 5803 in North America (April 2012; ~4400 corporate) including 2000 in Canada, about 380 are in China (>100 mainland & Macau, 308 Hong Kong).  Food service offerings account for 15% of global merchandise sales / 25% of gross profit margin.  Also available at certain locations - food from Subway, A&W, Tascano's, Premium Coffee and Van Houette.  The last major deal struck by the company was for 29 stores in Illinois, Missouri and Oklahoma (December 10, 2012).  90% of European revenue comes from Scandanavia.
The company's international banner Circle K was originally acquired from ConocoPhillips in 2004.  Though an American company at the time (all 1663 corporate locations were in the USA) Circle K had franchise licensing agreements outside North America where the number of international franchised locations using Circle K has since more than doubled from the original 627 (in Mexico alone franchisee Grupo Kaltex opened more than 250 new stores).  Today Circle K has a growing presence in China, Indonesia and Vietnam where the store opened up shop in 2008 in partnership with GR Vietnam.  note - Couche Tard founder Boucher recently joined the ranks of Canada's billionaires.
update - Couche Tard is in the midst of acquiring all of ExxonMobil's On-The-Run stores.  Late 2013 - considered the likely candidate to acquire Hess's 1350 strong retail store network (scattered across 16 states). The pricetag for Hess's retail network is expected to be in the range of $2.0-$2.5 billion.
update - 4Q2013 (April 28) - Couche-Tard earnings disappoint at 61c a share versus analyst estimate of 77c (profit still +4c higher than previous period's 57c).  profit missed estimates due to weak US merchandise sales and higher than anticipated administrative costs at newly acquired Scandanavian operations.  nonetheless, sales grew by 45% to $8.78 billion thanks to the Statoil acquisition (Sweden, Norway, Denmark, Poland).  same-store sales up +0.1% in Canada / +0.9% in the United States.  
update - 1Q2014 (July 21) - Finally, the company's recent big acquisitions start paying off (most acquisition admin costs covered in previous quarters) - net income climbs +147.7% to $254.9m (per share 57c to 135c).  quarterly dividend per share increases for the first time in more than a year (7c to 9c).  cash and short term investments: $520.90m -> $621.70m (+19%).  long term debt up (+18.5%  $2846.2m -> $3371.9m) but total debt down (-24.9%  $4231.6m -> $3389.2m).  total assets now $10.6722b up +3.1% from previous year period but still not as high as it was 3 quarters prior ($10,821.9m).  versus 3 months prior (4q13 vs 1q14) all of the change in total assets came from current assets ($3281m -> $3417m);  revenue +3.0% but operating income (+106%), net income (+75%) both up.
Metro Inc Stake
In January 2013 Quebec grocer Metro sold 7.2% of its 12.9% interest in Couche-Tard class B shares.  Three of Canada's largest banks paid $479m for the 10 million shares.  Following the sale, Couche Tard will still have an economic interest of about $500m in the company which includes 21.8% of all A shares.
A Bit of History
 The company had humble beginnings in Laval, Quebec where it remains headquartered.  Initially, it operated stand-alone convenience stores in Quebec.  A pivotal deal made in 1987 with Quebec's leading grocer Metro Inc, tripled the store network - 34 -> 115 locations.  It entered Western Canada in 1999 when it acquired Silvercorp Limited and its 980 Mac's and Mike's Mart locations.  Entered the US market in 2001 by buying up 225 Bigfoot convenience stores in the US Midwest.
European Expansion Begins With Statoil Fuel & Retail
Arguably the most significant move by the company happened just last year on June 20, 2012 when it acquired Statoil Fuel and Retail for $2.8 billion.  The deal gave it a foothold in Europe.  Couche-Tard plans to do the same thing with Fuel & Retail as it did with Circle K - make smaller acquisitions in other places then familiarize people elsewhere with the company by using the Fuel and Retail moniker. 
The Statoil move initially gave it 2853 stores in Norway, Denmark, Sweden, Poland, Estonia, Latvia, Lithuania, Russia but Couche-Tard also has its sights set on France and Germany.  For the year ending December 31, 2011 Statoil Fuel & Retail sold NOK73,691 million worth of food and gas (8416m litres of gas).  Gross profit amounted to NOK10,035 million (5103m gas / 2815 food and other merchandise), net profit NOK1080m.  NOK is the currency of Norway where Statoil is headquartered.  The NOK is worth about 1/6th of a dollar.
In Canada Couche-Tard's brands itself Couche-Tard, Provi-Soir, Mac's and Dépanneur 7 jours - Mac's is the dominant convenience store banner in Western Canada.
Major Acquisition Partners
Statoil - 2853 gas stations (corporate) known by the moniker Fuel & Retail, Silcorp Limited - 980 Mac's and Mike's marts acquired in 1999.  This deal gave Couche-Tard stores in Western Canada.  ConocoPhillips - 2004 deal for Circle K gave the company 1663 corporate stores in the United States as well as another 627 franchised locations.  Couche-Tard then started rebranding all of its stores outside Canada Circle K.  Shell - 369 stores acquired in four transactions made in 2004, 2006, 2010, 2011.
Couche-Tard made 9 major acquisition deals that year after making 6 in 2011, 5 in 2010, 2 in 2009, 3 in 2008, 2 in 2007, 5 in 2006.  Since 2006 all of the deals involved only stores in the United States with the exception of two : 1st deal of 2011 involved 11 corporate run Shell stores in Western Canada and Ontario. : Final deal of 2008 involved 252 Irving Oil stores in Atlantic Canada and New England. : In 2012, two deals involved company operated stores. In 2012 140 gas station convenience stores were acquired in the US alone.
Locations Estimate
According to the company's 2012 annual report as of April 2012 there were 5803 stores in North America the majority of which are corporate locations.  Internationally, outside of the Statoil Fuel and Retail stores which can be found throughout Scandanavia (these are corporately owned stores; 90% of revenue from that division comes from Scandanavia, the rest from Russia and surrounding countries) stores in Asia are franchisee operated - they number some 4,200 and can can be found mostly in Asia :  2900 Japan, over 350 in Hong Kong, another 100 in rest of China, 350 in Indonesia, between two and three hundred in Mexico, less than 50 in Guam and Vietnam.
65% of North American corporate locations were stateside (2882/4415) with the rest in Canada (674, 570, 289 corporate stores in Eastern, Central and Western Canada respectively).  All of the company's locations in Western Canada are corporately run. 66% of North American affiliated stores were stateside (980/1489) with the rest in Canada.  Outside of North America all of its 2853 corporate locations are in Europe (Statoil Fuel & Retail), the other 1500+ stores abroad are franchised to various other companies.
Arizona is the #1 US state in terms of locations at 639 (623 are corporate), Florida is #2 at 414 (407 corporate) - since 2011 the company has acquired an additional 29 stores in Florida (all from a single 2011 deal).
Financials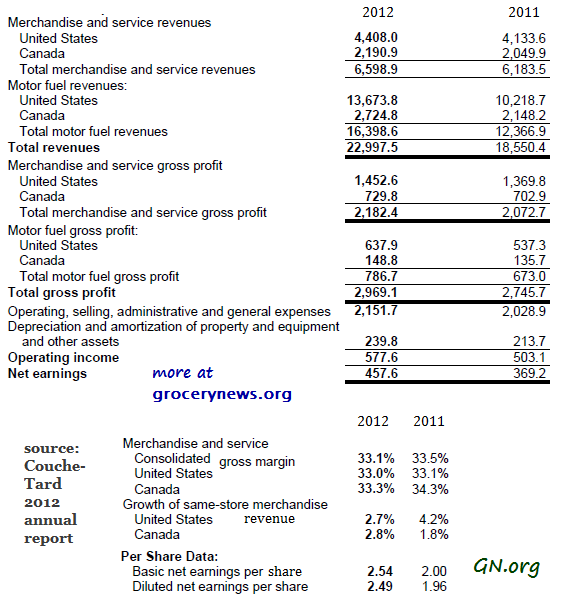 Powered by Bullraider.com