Details

Category: annual reports
Last Updated on Sunday, 26 May 2013 10:45
Written by Grocery News
          1q2014 update: quarter ended April 30, 2013 Wal-Mart had sales of $114.187b -10.7% versus 4q2013 ($127.919b).  US food sales remain at 55% of total US sales.  qoq profit was flat at $3,784m.  Dividend per share $1.88 which includes a special dividend, dividend was unchanged at 40 cents the previous four quarters.
2013 was another great year for Wal-Mart.  Even though it paid out more in dividends ($5.4b worth with another 18% increase coming in 2014), bought-back 113.2 million of its own shares ($7.6b), faced a negative currency
impact of $4.5 billion, it still managed to lower long term debt ($44.070b->$38.394b), add more than one billion dollars in cash ($6.550b -> $7.781b).  It also posted gains in revenue (+5.0%) and net earnings (+7.8% : $15.766b -> $16.999 billion).  Shareholders were well compensated;  annual dividends up 8.9% to $1.59 a share;  WMT stock up +19.75% (Feb  27, 2012 through Feb 25, 2013).  The bad news ?  The 4Q was arguably the weakest.  US same store sales were up only 1% with total US sales up 2.6% vs 5.0% on the year.  Walmart International remains a key building block for the company's future - last quarter walmart international sales were up +6.9% to just under $38.0 billion;  that's $2.463b in additional revenue abroad vs only $1.876b domestically.
For the fiscal 2013 year ended Jan. 31, 2013, revenue at Wal-Mart totalled $469.2 billion (+5.0% vs 2012) $466.1 billion of which is net sales (+5.0%), the other $3.0 billion stemming from membership fees (-1.6%).  The American Taxpayer Relief Act helped lower the effective tax rate charged to Walmart (31% for the year from 32.6%; Quarterly:  30.9% -> 27.7%).
In both the 4Q and F2013 periods earnings per share was up 10.6% (4Q:  $1.51-> $1.67, F2013: $4.54-> $5.02).  Dividends per share in 2014 will be $1.88 (+18%);  dividends cost the company $5.4 billion in 2013 ($1.3b in the 4Q alone).
Total annual net sales up +$22b, $10b of which came from American operations;  Sales in the USA were helped by sales of food and other consumables, health and wellness (the company gained market share in the grocery industry).  Over this past year, free cash flow was up +18.1% -> $12.7 billion.  ROI: 18.2%
Bad News - Fourth quarter US sales were relatively weak (+2.6% vs +6.9% abroad);  overall sales were still up 3.9% ($122.3b -> $127.9b) thanks to international growth. Other income was down -7.8% to $815 million. Annually, c
urrency exchange rate fluctuations negatively impacted net sales by $4.5 billion.  US segment operating income was still up a healthy 4.3% despite the poor sales performance (same-store sales up a measly 1.0%).
Good News - Income from continuing operations up +7.8% to $17.0 billion (vs $15.8b last year). Wal-Mart bought back $2.9 billion worth of company shares bringing the total repurchased on the year to $7.6 billion (113.2 million shares). Assets up +5.01% -> $203.105 billion (half of the $10b difference was in current assets).
Long Term Outlook
The company has two key things investors look for:  1) growing revenue stream 2) dividend growth 3) sales growth that exceeds growth in operating expenses
Fact is, in 2013 Wal-Mart lowered the operating-expenses-to-sales-ratio by 14 bp (the company's goal is to lower that ratio 100 basis points by 2018).
Walmart now accounts for 25% of US grocery sales.  That's ~55% of its annual US sales ($130 billion)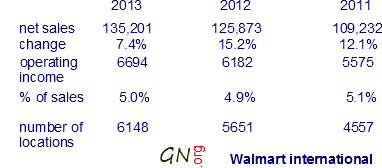 Powered by Bullraider.com