Details

Category: annual reports
Last Updated on Thursday, 12 September 2013 19:18
Written by Seraphim
results by segment    sales by source
At only 2.2% of total sales in 2013, Sysco profited $992.427 million, a 6-year low and for the first time since 2008 fiscal earnings are less than $1b.  Operating income also down to 3.7% of revenue compared to 4.5% the previous year & 4.9% in 2011. 
Despite this, the company managed to increase its dividend payment by 4c or +3.7% to $1.11 a share.  Dividends cost the company $648.3 million on the year +$20.9m vs last year ($622.9m).  capex down to $511.9m (vs $784.5m) but free cash flow up !  $1.0 billion (vs $627.9m).  Company is growing ! 
acquisitions accounted for $397.4m of cash flow vs only $110.6m last year.  cash flow from operations : $1.5b  +$0.1b.  cash and cash equivalents down :  June 30, 2013:  $133.891m  June 29, 2012:  $477.024m    for other basic info on the company refer to last year's report.
Revenue +4.8%
Due to inflation and new revenue from acquisitions, total company sales increased 4.8%, surpassing $44 billion.  Revenue growth attributable to acquisitions : +1.5% vs organic growth +1.3% (case volumes increase came entirely from the divisions Broadline and Sygma).  The company plans more acquisitions next year and that will add at least another 1.0% to revenue in 2014.  Still though revenue growth was weaker this year versus last year;  In fiscal 2012 (June to June) sales were up +7.8% with 5.5% of that growth stemming from internal inflation (product costs).  Organic growth in case volumes was approximately 2.5% in 2012.  total debt $3.0 billion.
Gross Profit +2.5% but operating costs +7.3% -->  operating income -12.3%
Although gross profit margin fell as % of revenue (18.11% -> 17.7%) much of that was caused by growth in business from national customers relative to independent restaurants; gross margins aren't as high for the large national businesses as compared to the smaller ones.  Sysco also attributes slow market growth for the overall decline in margins.  Last year (2012) gross margin also down (18.80% -> 18.11%), mostly due to product cost inflation (as opposed to this year where customer-base was the cause).
At $6.209 billion operating costs were higher in 2013 than in 2012 ($5.786b).  New expenses attributed to a Business Transformation project which includes costs related to new pay-related and other software ($193.1m -> $330.5m: +$137.7m) and related depreciation and ammortization (+$59.6m) / total depreciation and ammortization up +$95.6m.  Fuel costs +$18.9m with costs per gallon up +2.8%.  Last year (2012) operating costs were up +5.9%.

The company anticipates that in 2014, retirement related expenses will decline by $75-$85 million.  For this year ~65% of the company's diesel fuel needs are locked in at a reasonable price.  Retirement plans for executives recently restructured and there was a retirement plan freeze at 2012 year-end and that reduced those costs by $106.9m in 2013.
2013 effective tax rate 35.87% vs 37.13%, 36.96% in 2012, 2011 respectively.  The lower tax rate in 2013 is due to i) $14.0m tax benefit related to change in estimate of 2012 domestic tax provision ii) $8.80m tax benefit related to Sysco stock arrangements.  Basic earnings per share down -12.0% -> $1.68 (from $1.91), diluted earnings at $1.68 (vs $1.90).  Adjusted earnings per share down only -0.5% -> $2.14 vs 2012 or up +4.4%  vs 2011.  Per share, earnings down also because of greater shares outstanding.
Customers - In 2013 Wendy's was one of Sysco's biggest customers !  Within the SYGMA segment which accounts for 13.0% of sales (down from 13.5% in 2012, 13.6% in 2011) had Wendy's to thank for 25.0% of its sales on the year
2013: The Year Of Slow Sales Growth
Broadline Division
sales +5.0% vs +7.8% the year before.  Sales from newly acquired companies account for 1.6% of the increase in Broadline sales.  Inflation also a cause stemming from 2.3% increase in product costs.  Interesting - foreign exchange rates not a factor.  Operating income down -0.6% (vs +3.8% in 2012) due to expenses increasing faster than sales.  cost per case -$0.03 vs +0.03 in 2012 thanks to lower sales/tech pay related expenses offset by delivery/warehouse/fuel expenses.  Cost per case is on track to be -0.05 lower in 2014.
Sygma Division 
Caters to customers demanding high volumes which allows them negotiate for lower margins.  this division was the weakest for Sysco : many customers were lost (contracts expired on certain dates), and lower overall volumes.
sales +0.8%  vs +7.4% the year before.  operating income -14.7% (gross profit -0.9% vs oper. expenses +1.2%).  delivery costs, again factored in negatively.  by comparison in 2012 gross profit +4.3% vs oper expenses +5.3%.  fuel cost surcharges (+$8.3m) passed on to customers boosted gross profit that year.
Other
This segment includes customers outside of North America as well as Sysco's lodging industry supply company.  Domestically, this division also encompasses distribution of specialty imported products.   Accounts for 6.2% of Sysco total sales / 3.9% of company operating income.
operating income +8.3% vs -9.2% last year.  Boost came primarily from lodging industry supply company that was acquired in 3Q2012.    addition charge of $2.6m to specialty food companies also affected on operating income.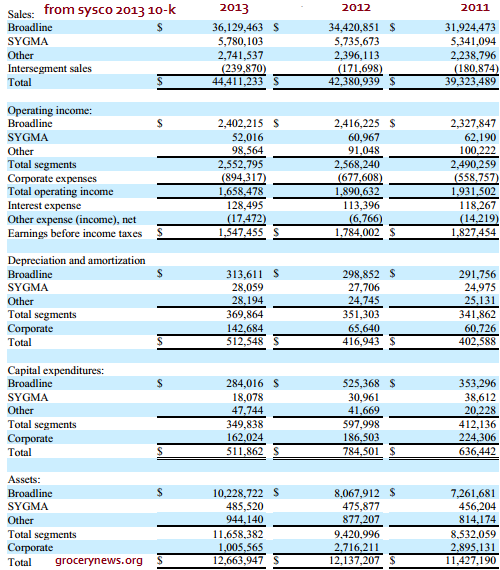 Powered by Bullraider.com